- Intelligence manager, corporate security at top-20 FTSE 100 consumer goods company
Dragonfly was a crucial partner to us in the build-up to the Russia-Ukraine conflict. They were the only supplier I heard from that was able to accurately predict the coming events a month before they happened [in Strategic Outlook 2022], and articulate their reasoning, which added to the credibility of the assessment. Based on their assessments, we were able to prepare our security, commercial and financial response to the crisis. This ultimately helped us to save the lives of our employees, and reduce commercial and financial losses.

Henry Wilkinson
Chief Intelligence Officer
David Claridge
Chief Executive Officer
Strategic Outlook 2023 is Dragonfly's annual forecast on geopolitics, global security and crisis risks for those whose decisions hinge upon informed insight into what the future may hold.
Our theme this year is The Global Unravelling, which captures the dynamics of how the global order and the systems that govern stability are changing and shaping the many risks we forecast in 2023.
In successive Strategic Outlooks, we have warned of risks arising from changes in the global order and deepening dysfunction in political systems. Our forecasting is on record, from Russia's invasion of Ukraine and the crisis in the Taiwan Strait to many other issues of the past year.
These issues and their consequences have thrust geopolitical risks to the top of board agendas. Our assessments suggest it prudent that they remain there. It is vital that leaders are appropriately advised by specialists who have the right methodologies, insight, intelligence and expertise to inform long-term planning and avoid strategic surprise.
This year, we present Strategic Outlook in a new format for easier future reference. With an interactive user experience, this edition includes more than 500 forecasts, detailed scenarios with early warning indicators for how 15 key geopolitical flashpoints may play out in 2023, as well as key monitoring points and dates to watch for each region. We have also developed regional and thematic risk dashboards, designed to allow you to actively track risks.
Strategic Outlook 2023 is the work of our outstanding and diverse team. Their advice and assessments are trusted each day by the world's foremost organisations, whom we are proud and grateful to call our clients.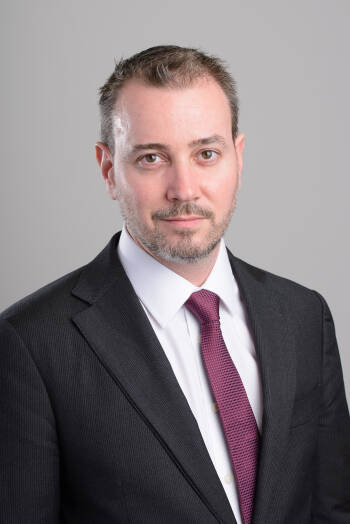 Dragonfly's Strategic Outlook 2023 is launched at a time of exceptional global political and economic volatility, in which the very fibres of globalisation are under almost unbearable strain. A time when clear, accessible and vividly presented forecasts are more essential than ever.
Against the run of conventional thinking, last year's issue presciently warned that Russia's invasion of Ukraine was a critical risk for 2022; the global shockwaves pose ever greater challenges for our experts in 2023.
Like a piece of glass shattering from a point of impact, anticipating the pattern of the resulting cracks requires a very deep understanding of the construction of the pane and the forces exerted upon it. Strategic Outlook is our considered forecast of how and where the global cracks will spread in the coming year.
No doubt some of our forecasts will land on the mark, and others will miss, but the exercise of completing them is an essential part of our intelligence process. It sets our strategic collection plan and the indicators that will form the basis of our critical judgements in the coming year. We are privileged to be able to share them with you, and of course to be held to account for them over time.
The strength and depth of the excellent Dragonfly team means we are able to offer ever-better estimates of global and regional challenges that lie ahead. And the regular interactions we enjoy with our loyal clients do so much to deepen our understanding of the business risks they face every day. Thanks to both for what is an endlessly stimulating conversation.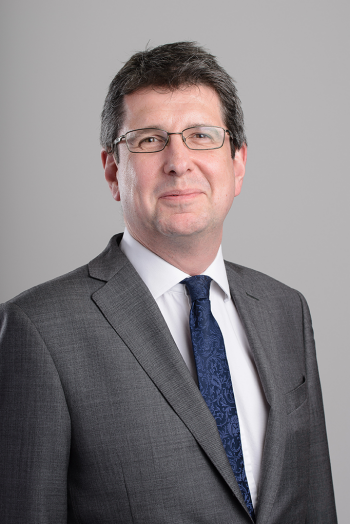 The ninth edition of our definitive geopolitical and global security forecast.
Welcome to
Strategic Outlook 2023
Leader
The leader is our headline global assessment for those whose decisions hinge upon geopolitical and strategic security risks. Drawing on the expertise and forecasts of our regional subject matter specialists, we highlight the themes and trends that we anticipate will define and shape risks over the coming year. The leader is intended to serve as a lens through which readers can interpret and anticipate the causes and impacts of future risks even beyond those we specifically forecast.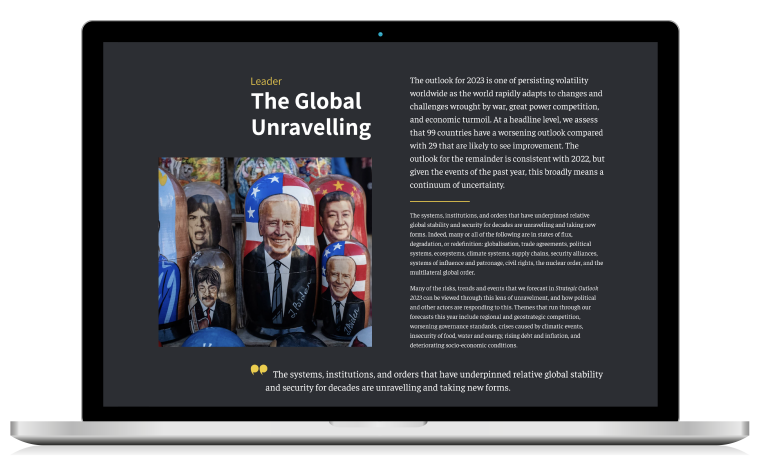 First published in November 2022 by Dragonfly Eye Ltd
3 More London Riverside, London, SE1 2AQ, United Kingdom
© 2022 Dragonfly Eye Ltd
Dragonfly is a private intelligence service to professionals who guide decision-making in the world's leading organisations. From the highest risk environments to the boardroom, we enable our clients to make confident decisions and put them ahead of security and crisis risks.
All rights reserved. No part of this publication may be printed or reproduced or utilised in any form or by any electronic, mechanical, or other means, now known or hereafter invented, including photocopying and recording, or in any information storage or retrieval system, without permission in writing from the publisher.
Cover image: Paul Taylor/Getty Images
ISBN: 978-1-3999-3979-9
Editor-in-chief: Henry Wilkinson
Managing editor: Thomas Murphy
Design: Lindsay Lombard, Matteo Zanre, Syennie Valeria
Editors: Hannah Poppy, Hugo Crosthwaite, Manish Gohil, Pierre-Louis Le Goff
Contributing analysts: Barbara Kelemen, Byron Cabrol, Carl-Johan Carlstedt, Charlie Burnett Rae, Eddie Bejarano, Eileen Mak, Eliza Norris, Filippo Cutrera, Flavien Baumgartner,
Francis Lee-Saunders, Hannah Poppy, Henry Wilkinson, Hossam Abougabal, Hugo Crosthwaite, Ilias Koutroulis, Jim Kerres, Joe McArdle, Joel Gulhane, Jonah Kaplan, Joseph Briefel, Kirsten Phelps, Lauren O'Loughlin, Maite Reece, Maria Harrison, Manish Gohil, Max Romer, Megan Campbell, Michael Lubieszko, Paolo Napolitano, Pierre-Louis Le Goff,
Reggie Thompson, Sandro Wirth, Sofia Martinez Fernandez, Tamara Naidoo, Thomas Murphy, Tobias Wellner, Zaynab Olyabek, Zoe Ciaccio
Dragonfly would also like to thank the many industry colleagues, on-the-ground sources, contacts, external analysts and partners who contributed to Strategic Outlook 2023.